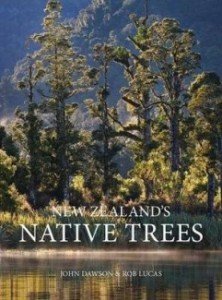 This book contains beautiful pictures and information about manyNew Zealandnative trees.   It is great for helping to identify species.  It also explains botanical terms in plain english which is great for budding rongoa Maori enthusiatists.  Not all trees are included but certainly many of the most common.  It is a real treasure but not one for taking into the bush with you for a starter it is too heavy.  The John Dawson and Rob Lucas are well respected in their field and have many earlier titles aboutNew Zealandflora to their credit.
The book took 7 years to produce and recently won the 2012 New Zealand Post
Book of the Year Award.  It costs about $120 and is available from most booksellers nationwide.